T1000S Features and Connection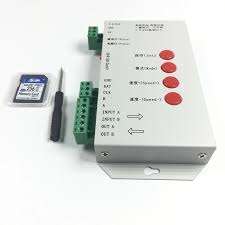 T1000S is a model name of pixel led controller through which we can generate effects on PixelLed.
T1000S controller is used for both commercial purpose and domestic in-house decoration purposes because of its easy availability and price range.
LedEdit software is used where you can create your own effect by screen recording feature, to know more about the function and features please check the video attached below.
This t1000s led controller accepts 5-24v of input DC power and it has two status led one for power and another for the [CP_CALCULATED_FIELDS_VAR name=""]status of SD card.
It also supports Differential A and B and cascading of upto 8 T1000s in a Master-slave manner. The memory card 256 MB- 16GB can be used.
Features for T1000S:
32—256 Gray,Support software Gamma correction。


Off-line(SD Card) control, playback content stored in the SD card. 

Multiple T-1000S controllers (up to 16) can be cascaded together and work synchronously for all LEDs.

If you need to use RS485 signal for long-range data transmission you need to connect controller A with Receiver A (DMX+), controller B with




] Receiver B(DMX-),
Use of T1000S:
Used in signage 

Used in pixel Boards 

One T1000 can control up to 2048 LEDs at one time

Used in commercial activities and because it is easy to use one can use it for in house small parties.

It can be used with all kind of modules, strips, and Pixels 

It can be used with LEDs working from 5v – 24V
Watch This video for a more detailed discussion on the connection of T1000S with Power supply and Wiring. This video will help you to understand the working and technical specification of T1000S.
Check this video and learn how to download LedEdit 2014 for free and how to use the software to generate recorded effects and how to generate a fresh effect and how to run the program.
How and where to buy T1000S
T1000S is available with us for INR 849/- with preloaded programs.
We also provide connection assistance and blinking solution with this controller for free.
Contact us on 9039216117/8847884787 for buying T1000S.
Connect with us on whatsapp-